Pregnancy can be a tiring 9 months… that doesn't translate to weakness.
Not cold.
If you can capture your inner child and hold onto that throughout your life, then you've done something few people succeed at. But seriously — Brrr!
Image Credit: Heather MacEachern/HRMPhotography
She kicks butt – literally.
Check out Kung Fu champion Leda Elliott practicing at full term — the day before her due date. Now that's commitment to your art.
Image Credit: B.Y. Elliot/Wushu-leda
We can craft.
Rosie the Riveter's famous "We can do it!" pose takes on new context in this photo. Mothers can still be symbols of feminism and economic power, or so says Rosie.
Image Credit: Viva La Vida Photography
Snakes & Tats
Snakes and tattoos? Whoa.
Image Credit: Gregory Katsoulis/Momphoto
Punk Parents-to-Be
Who said you can't be punk and be a parent? No one worth listening to.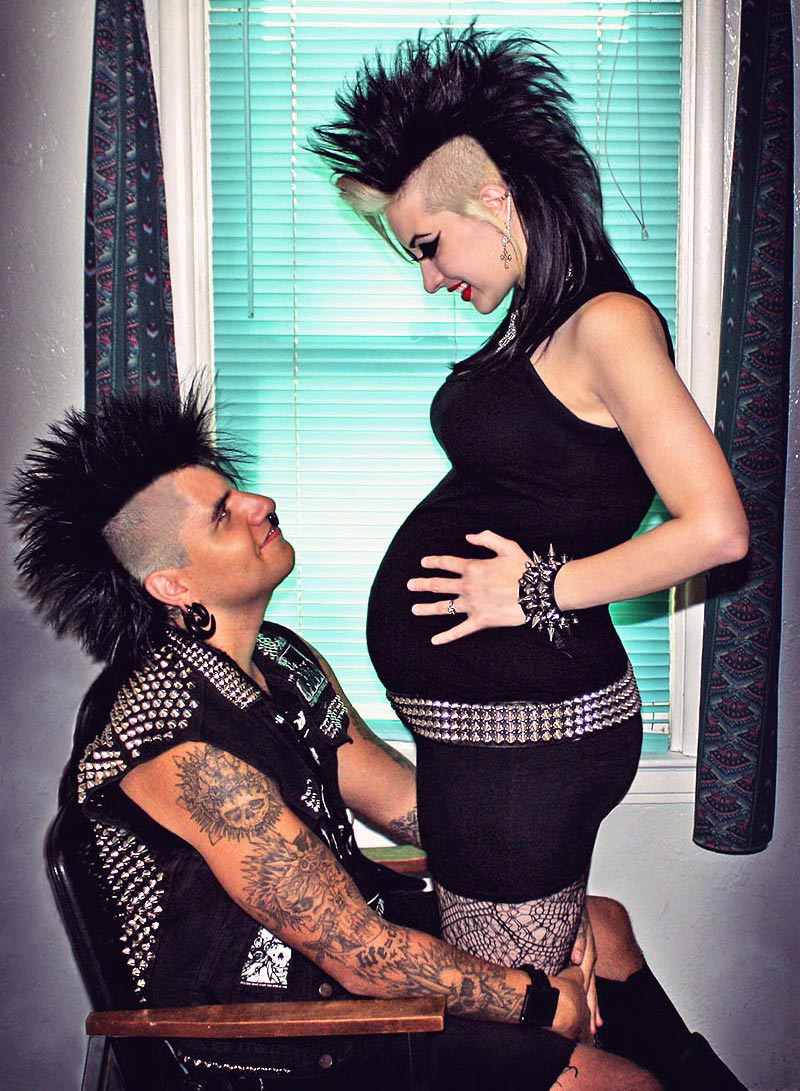 Image Credit: Gothic Angel Clothing
CrossFit Mama
They say CrossFit isn't for the weak of heart —well, pregnancy isn't for the weak of heart either. Morning sickness, varicose veins … shall I go on?
Image Credit: Heather Bergeron/http://www.journalmenu.com
High-Flying Wonder
An acrobatic duo from Liberi di has left the lowly world of simple maternity photography behind as they fly through the air on their trapeze.
Image Credit: Nicola Scarmagnani/SkaPhoto.com
Yoga Mama
Note how she somehow maintains her pose while standing on a sloped rock.
Image Credit: Tara Marolda Photography
Lifting For Two
This woman won't ever feel tired carrying a baby around in her arms.
Image Credit: Shannon Searcy/Cannoncrossfit.com
On Pointe
Most of us couldn't lift our legs this high at the best of times, but Mary Helen Bowers twirls gracefully through her dance well into her third trimester.
Image Credit: Mary Helen Bowers/Ballet Beautiful
Living On The Edge
Ballsy and breathtaking, there's nothing quite like perching one's self on a soaring cliff for a stunningly scenic maternity shot.
Image Credit: Zuan Carreño/Zuanc.com
Jumping Rope
Skipping is said to be one of the best cardio exercises, but I'm getting tired justlooking at this woman workout. Ten minutes of skipping is the equivalent of running an eight-minute mile. Imagine how much harder it would be pregnant.
Image Credit: BeatyPhotography