Use a barrette to fix lose tank top straps.
Shoe shopping? Trace your kid's feet and avoid the hassle and trying on lots of shoes.
Print temporary tattoos with your information in case you get separated.
Putting a medicine dropped in an open pacifier can make administering medicine less traumatic.
Recycle the crib when they get too big for it.
Turn a DVD case into a "color case."
Use a little glitter to make tooth fairy money!
Create a template with important information for your babysitter.
Use an upside down coffee lid to keep from getting sticky.
Use a fan to prop up a tent and to keep the kids cool!
Turn old drawers into a bookcase to save room.
Use a fitted sheet to keep mosquitoes out of the pack and play.
Tie a sheet around your table and you have a kid hammock.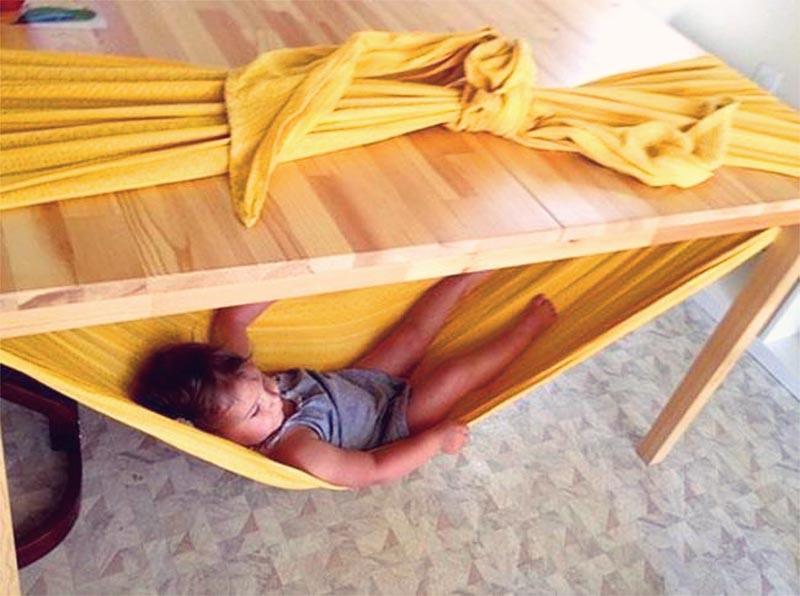 Slide a pool noodle under the sheet to keep the kiddos in the bed.
Cut a piece of a pool noodle to keep doors wedged open.
Use an upside down crazy straw in a cup to keep it from sliding out.
Freeze a pacifier in an ice cube tray to help with sore gums while teething.
Use a diagram to help measure toilet paper (and save it, too!).
Use a glue gun to seal out water in bath toys.
Use old soap pumps for water to fill up water balloons.
Convert old lotion bottles to faucet extenders.
After slicing up apples for lunchboxes, use rubber-bands to keep them together and from turning brown.
Use a laundry basket to keep your baby in one spot and their toys close by!
Slip a rubber-band around your door knobs to keep them from accidentally locking anyone in or out.
Make a bracelet with your cell number for each child.
Make chores into a fun game.