Nat Ellis, a 50-year-old Oregon high school teacher, has been collecting toys from fast food restaurants for twenty-five years. And, in that time, he's amassed an insanely big stock pile of 1,130 pieces to date. That's a lot of happy meals…
Image Credit: Nat Ellis
Image Credit: Nat Ellis
Ellis had a plan: when it came time, he would sell everything on eBay and retire with the money he earned from his lifetime of collecting.
But recently, he threw that plan out in favor of another: helping Logan Roninger, a perfect stranger.
Image Credit: Logan's Lions
Logan is a four-year-old boy with spinal muscular atrophy, a neuromuscular disorder that causes muscle weakness.
He can't crawl, walk, or dress himself without help, and eventually, the condition will affect his swallowing and respiratory function.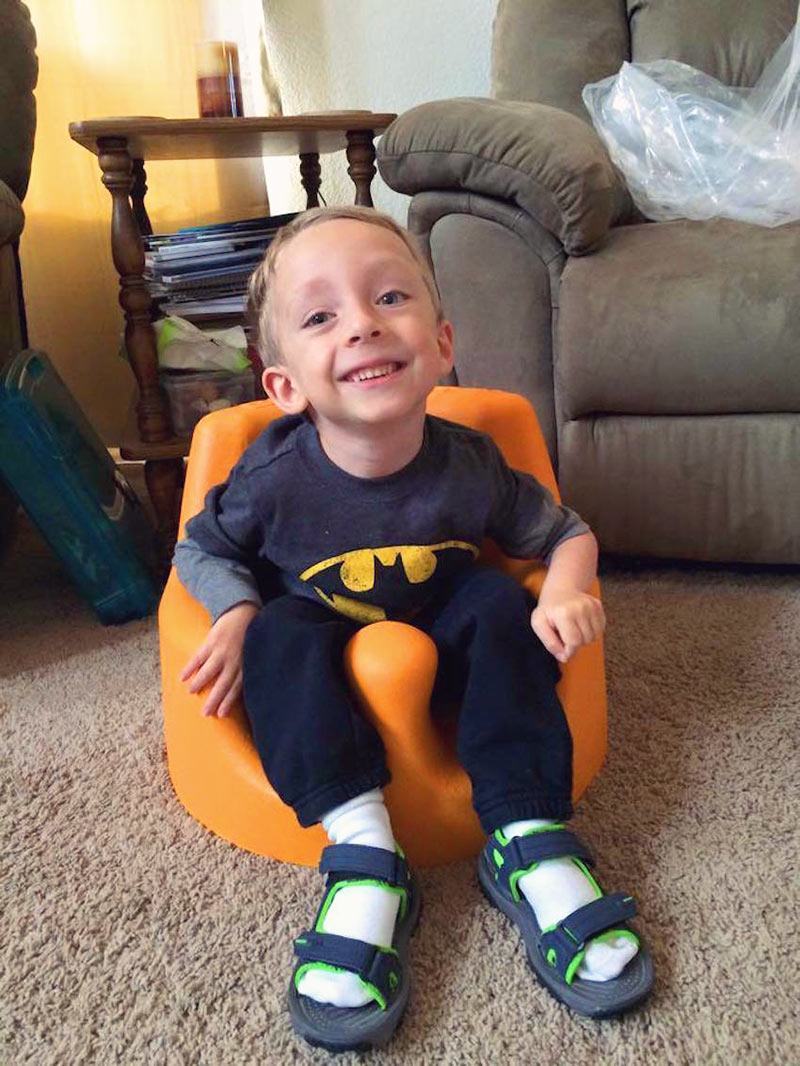 Image Credit: Logan's Lions
But although his muscles are severely affected, his mind and spirit are not, his mother, Trisha Roninger, told TODAY —
I'm a wildlife biologist, and my husband is a fishery biologist, so we spend all of our time outside; we love to hunt and fish and camp. We make those things happen with Logan, but it's hard. You can only get so far in the woods, or you put him in a backpack.
Logan is currently using a standard motorized wheelchair, but his parents are hoping to buy him a Tankchair — a souped up wheelchair that would allow Logan to safely explore more rugged terrain.
Unfortunately their insurance won't cover the $17,000 cost.
Image Credit: Logan's Lions
Thanks to their wonderful local community's efforts, they don't have to bear the brunt of it alone: local businesses and schools, including the high school where Ellis teaches, have been pitching in to raise money for the new wheelchair — $11,000 so far!
And when Ellis heard of the fundraising, he knew he had to help, he told TODAY:
Life's not about us. It's about other people. So the best thing you can do is help as many people as possible.
Ellis has put his collection up on eBay and Ruth Olsen, an equally kind-hearted winner of the auction, even donated it back to him so that he could raise even more money for Logan. Ellis' auction ended on July 16th and raised an additional $1,200 for Logan!
Image Credit: Logan's Lions
Not content to stop at selling his entire collection, Ellis also started a fundraising page for Logan and his family, which has already raised over $5,500!
Image Credit: Logan's Lions
As for Logan's family, his mother told ABC News that they hope this Tankchair can help their little boy feel like any other boy his age —
Our very little boy just wants to play in the dirt, play in the mud. We want to make it as accessible as possible. We're very grateful and frankly, a little overwhelmed at the kindness of people. I hope people see this story and realize one act of kindness can change someone's life.
You can donate on Logan's YouCaring page and help them reach their $10,000 goal.
Image Credit: Logan's Lions
This article was written by Megan Berman and was originally published on Twenty Two Words.