Usually when you hear the word "model," you think of a tall, thin, beautiful woman with flawless skin and shiny hair and you'll often see women like this in calendars (models, cheerleaders, pageant queens, etc.)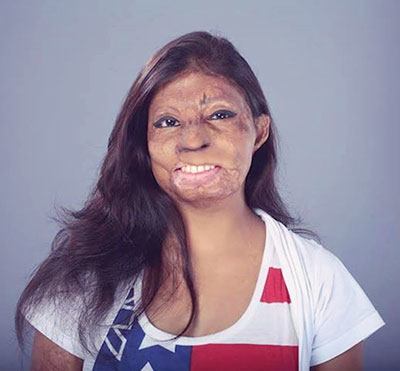 You don't often seen many burns on calendar models, but that's exactly why this calendar is unique and quite honestly, amazing. "In a society as insensitive as ours, it doesn't take much for the acid attack victims to lose their self-confidence," the calendar's website states, noting the calendar was launched in recognition of International Women's Day on March 8. "Apathy of the attackers give birth to the acid attack. The apathy of relatives, 'friends' and neighbors generates burns everyday. The calendar shoot aids the society to broaden the interpretation of beauty."
The women featured in "Bello" are smiling big for the camera and each model photographed also help run a cafe in Agra, India, called Sheroes' Hangout.
There are roughly 1,500 documented acid attacks every year, according to the Acid Survivors Trust International (ASTI), the majority of them occurring in India. It is gender discrimination at its worst; experts believe 75 to 80 percent of acid attack victims are women and girls, mainly being targeted from denying sexual advance by men attempting to access education.
Photographer Rahul Saharan, was happy to be part of such a project because it made girls feel "confident, courageous and strong. They are fighters," he said, noting that everyone has a responsibility to empower women like those in the photos.
"It's up to us — we make them victims or we make them fighters."
Beauty shouldn't be defined by someone's outward appearance, but by their heart.
Image Credit: Rahul Saharan / Stop Acid Attacks
Image Credit: Rahul Saharan / Stop Acid Attacks
Image Credit: Rahul Saharan / Stop Acid Attacks
Image Credit: Rahul Saharan / Stop Acid Attacks
Image Credit: Rahul Saharan / Stop Acid Attacks
Image Credit: Rahul Saharan / Stop Acid Attacks
Image Credit: Rahul Saharan / Stop Acid Attacks
Image Credit: Rahul Saharan / Stop Acid Attacks
Image Credit: Rahul Saharan / Stop Acid Attacks
Image Credit: Rahul Saharan / Stop Acid Attacks
Image Credit: Rahul Saharan / Stop Acid Attacks
Image Credit: Rahul Saharan / Stop Acid Attacks