What happens after most weddings? The beautiful bride's dress usually gathers dust in the back of a closet. But brides can donate them to the Angel Gown Program, were talented seamstresses turn them into gowns for babies who have died in the NICU.
"NICU Helping Hands started offering bereavement gowns to families on a very small scale in the fall of 2013 after we saw this need in hospitals where we were running our other support programs for NICU families," says Lisa R. Grubbs, president of NICU Helping Hands. "Our program is an acknowledgement that their child mattered even in death — that the life had been meaningful regardless of how long the child lived."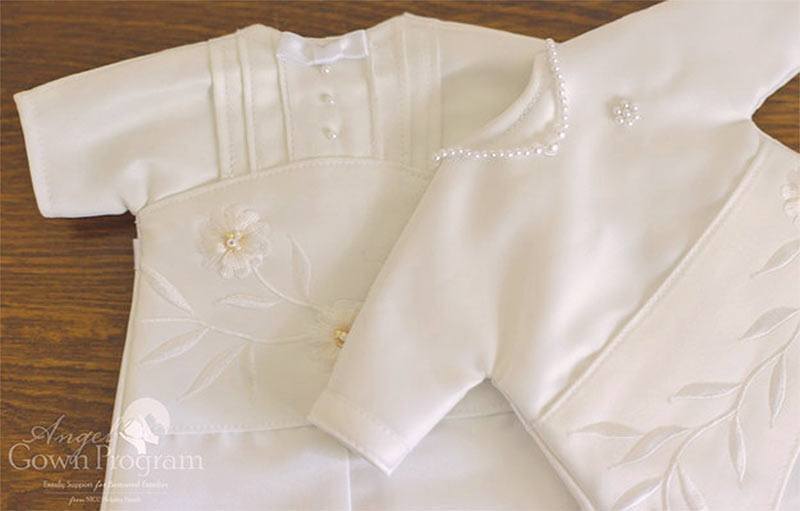 Image Credit: Holly D. Gray / NICUHelpingHands.org
"A wedding gown donated by a bride from the happiest day of her life, sewn by a volunteer into a one-of-a-kind custom gown for a baby that has died or will die… importance, honor, respect, caring, and love are embodied in this gift that is freely given to anyone that needs it," she said.
Image Credit: Holly D. Gray / NICUHelpingHands.org
In 2014 alone, Angel Gowns received upwards of 8,000 wedding gowns. Once the gowns are donated, one of more than 700 volunteer seamstresses from all over the United States will spend as many hours as necessary to refashioning it. "It isn't a quick and easy process," Grubbs said.
We have developed very strict guidelines to ensure that we provide the best garment to every family and hospital we serve. So the making of our garments is tedious, exacting, and not fast.
Image Credit: Holly D. Gray / NICUHelpingHands.org
The gowns are always given to the families at no cost,  but NICU Helping Hands rely on donations to pay for packaging and cost of mailing. All the stories that are part of the Angel Gown Program are incredibly heartwarming; "We have had the honor of custom designing a garment for conjoined infants — a garment for this situation is not available anywhere, but where there is a need we seek to fill it," she said. "We have worked with individual families who knew they were going to lose their baby as soon as the baby was born and we used their personal wedding gown to create the garment that their precious child would be clothed in. So many stories but each has a common thread: It's about recognizing a need for compassion and saying, 'Yes, we will help you.'"
Image Credit: Holly D. Gray / NICUHelpingHands.org
This amazing program gives parents an venue to grieve their children and honor their lives.
"Grief is not a moment or an event — it is a process, and a long, difficult one," she said. "Grief is always difficult, but when someone feels that nobody understands or cares or values the reason for their grief, the process can be complicated with feelings of anger, frustration, loneliness. Providing this garment, along with caring and support, gives validation to the parent and also sets a more positive foundation for this journey."
Image Credit: Holly D. Gray / NICUHelpingHands.org
If you'd like to support the work of NICU Helping Hands either by contributing your time or donating, visit their website today for all the details. Also, be sure and follow them on Facebook and Twitter today.