Wedding photography is a MUST and these shots might give brides-to-be fun, new ideas! Brides: getting ready photos before your wedding are undoubtedly some of the most genuine and memorable moments of your day. Today we're sharing a few of our favorite must-have getting ready photos to inspire your wedding.
We've rounded up the best-of-the-best such as candid moments with your girls, footage of the groomsmen, a teary moment with dad, mom helping you get ready, and much more. So, grab a pen and paper and get ready to jot these down (or, bookmark this page) because you won't want to miss these amazing photos! Which one is your favorite?
The Bride Getting Ready
First and foremost, you'll want those classic shots of the bride getting ready. Hair, makeup – the works. Bridesmaids, too.
Candid Shots of Your Girls
I don't know about you, but something happens when a bunch of girls get together the morning before a wedding. We make it a priority to have the most fun possible. It definitely unleashes our funny side… there's just so much excitement and anticipation in the room!
And our sentimental, BFFs-forever side.
The Dress
An essential must-have wedding day photo: The Dress.
Bridesmaids Dresses on Personalized Hangers
I love this shot! Remember the bridesmaid dresses from the day along with personalized hangers of your girls. Pssst. You can get some hangers here!
The Groom Helping the Ring Bearer Getting Ready
Aw. So sweet.
Before the Dress
Putting on The Dress
The Bride
I admire so many things about this shot. The lighting, the room, the bride looking in the mirror, the moment to herself. Incredible.
The Reaction
The Reaction by the Bridal Party = always an amazing moment.
The Groom and Groomsmen Getting Ready
… and the guys hanging out…
…and toasting to the groom (and, you know, playing foosball).
The Flower Girl + Ring Bearer
So cute.
Bride and Her Mom
Be sure to capture the moment with your mom on film. It's priceless.
Dad's Reaction
There are plenty of great photos of a dad's reaction to the bride, but this is one of my favorites. The scene is so real. The house, the kitchen, the red purse. This is not a staged shot, just a real moment in time capturing the dad's face perfectly. A must-have for your wedding.
I love this shot, too, from the perspective of the dad seeing the bride… very unique.
Groom and His Dad
Groom and His Mom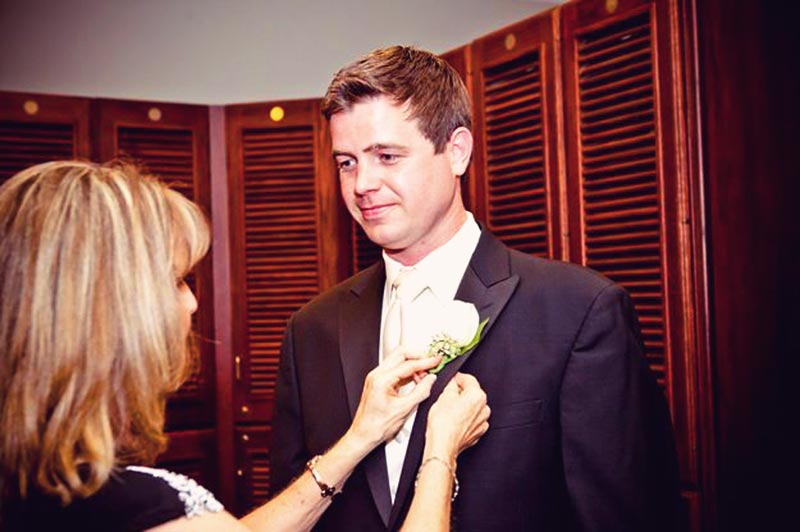 Bridesmaids Spying on Guests as They Arrive
Just Wait Til You See Her!
And, this is one we love just for fun. Bridesmaids have someone snap a photo of this and send it via text to the groom.